Welcome To Our Site!
Here at Northstar Industries We pride ourselves in making the highest quality splice kits on the market today. We were the first to bring out a fluorescent orange splice this way splice visibility was not a problem. Coupled with our special synthetic dielectric non melting FDA approved waterproof grease and 3 different size splices to work with. We are Definitely the splice for all your underground splicing needs.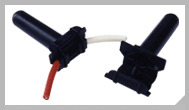 Model # SK1816G
Available in Fluorescent Orange or Black
The 1816 splice is perfectly designed with the contractor in mind who works with irrigation installation or underground dog fence Systems. This splice Holds 2 # 12 – 2 # 14 – 4 # 16 and a multitude of 18 Gauge Wire. Filled With Our Synthetic Dielectric Non-corrosive, FDA approved Water Proof 88 Gel.
Model # SK1412G
Available in Fluorescent Orange or Black
Our 1412 Splice is designed for the high end commercial, golf course, landscape lighting or residential contractor in mind. Our special non melting synthetic dielectric water proof sealant keeps the voltage in and The corrosive elements out use any combination of 2 # 10 – 3 # 12 – 4 # 14 or many other combinations of your splicing needs.
Model # SK812G
Available in Fluorescent Orange or Black
Looking For a splice to do the big jobs this is the one. It will hold 4 # 8 or 4 # 10 Gauge wires. It's the best splice kit on the market for low voltage lighting or golf course work. There's not a wire combination that can't be spliced in this.